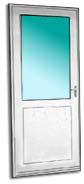 Swinging Doors
Our two styles of swing door frames offer a unique and reliable solution to problems associated with the other "standard" doors currently being used in marine conditions. We offer a traditional flange mounted exterior frame and a newly designed interior installation which eliminates exposed fasteners. Both styles incorporate a welded master frame that provides dual weather seals and a welded door panel. These doors can be custom designed to fit your specifications to include single or double doors and in or out swinging door panels. Glazing is 1/4″ tempered glass and/or custom door panels inserts.
Sliding Doors
Series 6001Although commonly referred to as patio doors, our 1600-A sliding door was designed specifically for marine use. The door incorporates our famous track and roller system which keeps the door secure and free of rattles. Our unique sill design virtually eliminates water entry, even under the worst conditions. The lock stiles where designed wide enough to accept a full range of quality hardware from moderate to maximum security. Panel configurations can be designed to fit the lay-out of your boat.
Standard glazing is 1/4″ tempered glass and the mounting flange is 1-1/8″ wide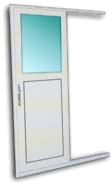 Series 6002Our 1600-B sliding door is setting a new standard for quality and reliability in today's marine industry. These custom extrusions have been developed to incorporate the necessary tracking system, weather seals and hardware options to ensure positive, long-lasting performance. In addition to our welded master frames and door panels, this design allows for the versatility of either exterior or interior installations and angular or radius configurations. Standard glazing is 1/4″ tempered glass.
Mounting flanges are 1-1/4″ wide.
Series 6003Our 1600-E companion way sliding door has combined the advantaged of a welded door panel with a low profile appearance. The design glide system provides smooth operation of the framed door unit which incorporates a formed 1/4″ acrylic panel. The flush lockset has been developed exclusively for marine use and offers a unique feature that will prevent accidental lock-out. Mounting flanges are 1″ wide.
Custom Doors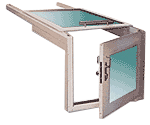 A perfect boat design should not be comprised by building around a stock door or window system. Some of the worlds leading manufacturers have utilized the custom design services of our designers and have brought to reality some of the most sophisticated designs imaginable. We have curved, bent, angled, and combined our door and window systems to successfully solve these types of unique problems.
From fly-bridge enclosures to door – hatch combinations, our designers will work closely with you to create a unique and functional enclosure that will be custom manufactured to your specifications.